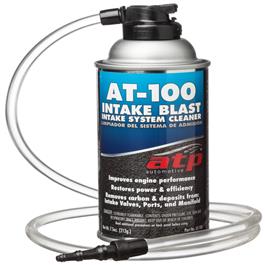 This month ATP has introduced a new product: AT-100 Intake Blast - Intake System Cleaner, a brand new addition to the ATP Premium Chemical program. AT-100 brings a unique solution to top end engine cleaning in a comprehensive kit, including everything you need to complete the service quickly, safely and efficiently.
This highly effective product is perfect as a standalone service or add-on to any tune-up for the professional technician. The attractive packaging and ease of use also make the product appealing to DIY customers.
Available now!
AT-100 Intake Blast - Intake System Cleaner
- Easy to use, aerosol charged solution for top end engine cleaning
- Cleans intake system by dissolving carbon and oil deposits
- Helps eliminate rough idle, hard starting, loss of power and pinging
- Smoke free, catalytic converter and o2 sensor safe formula
Recommended on EFI traditional fuel injected engines, over 75,000 miles (repeat every 25,000 miles) due to carbon build up over time.
Critical for GDI gasoline direct injected engines every 15,000 miles as fuel does not flow through or clean the intake plenum, ports or valves.
See the product flyer here:
AT-100 flyer web